I didn't realize I would be forced to give it all away. Yet is has to be the best thing that has ever happened to my personal growth. I have fine tuned my ability to apply control and know when it is appropriate and helpful and when it is just an attempt avoid what is really happening. I hope one day I can thank my son for all he is teaching me about myself and life. I have never been more present, focused and engaged. When I gave up control I also gave up all the worry that comes along. I live for this moment, each moment and it's really inspiring.
I have also been taking this attitude into the kitchen and it's such a reward. I started my blog writing about my deep fear of yeast, water and flour and the unpredictable nature of the three as they combine. After conquering bread and bagels I've gotten quite daring in the bread department. I'm a sucker for a great nutritious quick bread but when I saw the recipe for whole wheat rolls on Heidi's site 101cookbooks.com I knew I had my next baking challenge.
They were much easier than I thought and only took three hours from start to finish including rising and baking time. I use a bulk yeast from the co-op that I swear is my secret weapon in all bread baking. I also use a wheat flour that has 12-15% gluten from Fairhaven Bread mill that comes in bulk at the co-op. These two ingredients: a great yeast and a wheat flour high in gluten are key ingredients to successful bread baking. The recipe makes 24 rolls but could easily be cut in half. I usually just make the whole recipe and freeze the leftovers for subsequent meals.
Dissolve yeast in water. Add brown sugar, oil, honey, salt, garlic and herbs and 1 1/2 cups whole what flour. Mix well. Stir in remaining whole wheat flour and enough flour to make a stiff dough.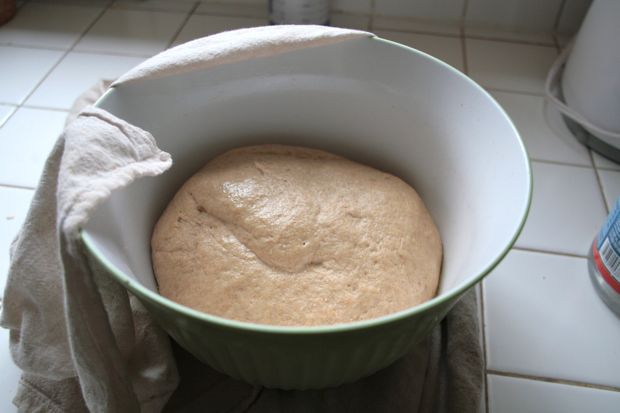 Knead on a lightly floured surface for 10 minutes. Place in a greased bowl. Cover and let rise about 1 1/2 hours. Divide into 3 equal pieces. Shape into balls. Cover and let rest for 10 minutes.
Roll each ball into a 10-inch circle. Spread with 1/3 butter (hs note: I used melted butter). Sprinkle with nuts if desired. Cut each circle into 8 wedges (like pizza slices). To shape rolls, begin at wide end of wedge and roll toward point. Place on greased baking sheet.
Cover and let rise 20-30 minutes. Brush with beaten egg. Bake in 375F oven for 12-15 minutes. Brush with milk or margarine while still warm. These are incredibly delicious and you can easily consume 2-3 without missing a beat. I call it baked good blackout. Enjoy.