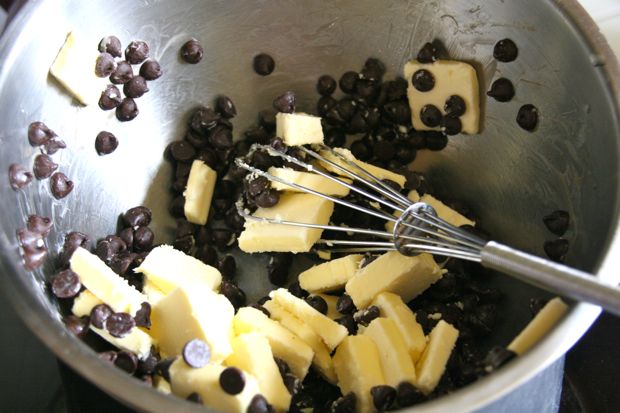 Mortified I quickly attempted a very challenging backpedal. Describing exactly the kind of cake I was talking about and sweating profusely. She laughed and proceeded to serve dessert. Thankfully, it was not at all your average chocolate cake. Not at all in fact. My husband had two helpings and we took home a huge slice which I quickly consumed over the period of three days. I then emailed to beg her for the recipe so I could make more. I was unbelievably addicted and needed to feed my craving. She directed me to the blog she found it on and I've become equally obsessed with following this writer. Please be careful, this happens to be my absolute favorite chocolate cake to date. It has the ability to help you gain ten pounds in less than a week and savor every minute.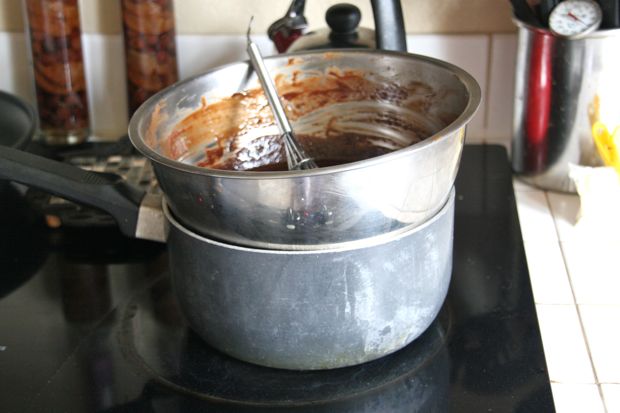 I am providing a direct link to the recipe here. I do want to spend some time, however, discussing a double boiler method as picture above. I will also share some small changes I made for my preferences and ways I would get the cake out of the pan that are different from her description. A double boiler is a kitchen pot that can be purchased and used for baking or you can make it easily yourself with the right mix of items at home. As you see in the picture I have an average pot that I fill with water and heat to boiling. I put the ingredients in a metal bowl that covers the pot but does not touch the bottom. The point is to allow the steam from the boiling water in the pot to melt the contents of the bowl above. It's very simple and costs much less than buying a double boiler.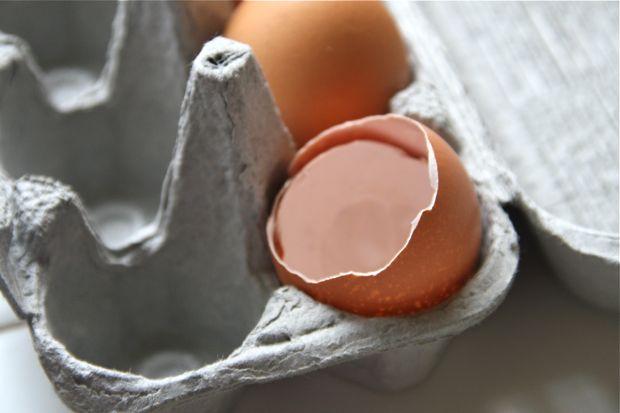 I used whole wheat pastry flour to increase some of the density of the cake and added chocolate chips as a last step as I noticed my neighbor had chunks in her version and I really enjoyed the contrast in texture from the pudding-like consistency of the cake to the firm nature of the chocolate chip.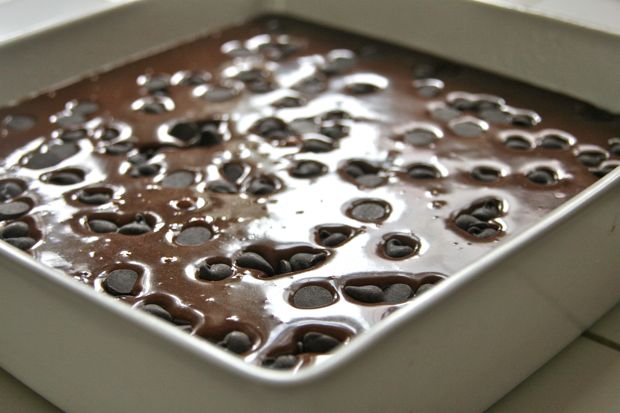 As a last note, the blogger suggests a method for removing the cake from the pan that I am sure works very well. I was also quite pleased with baking it in a square 8x8 pan and just scooping out sections like pudding and eating. Another method, however, if you would like to bring it to a pot luck and serve or increase the presentation style is to line the pan with parchment paper before pouring in the cake batter. This allows easy removal from the pan and thus cutting the cake will be simplified. I agree the cake is much better the next day after refrigerating or freezing and thawing.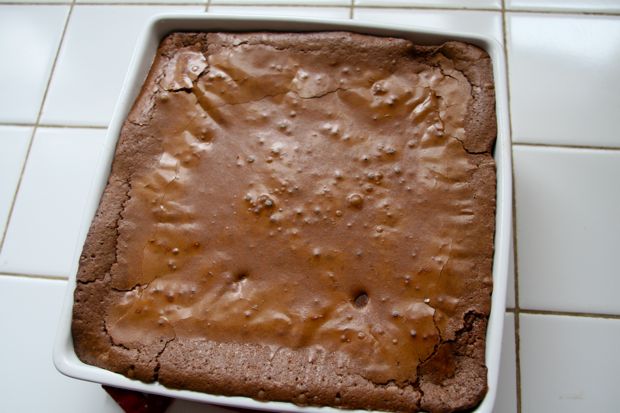 I hope you make this, it only takes five ingredients and my neighbor suggested adding orange zest or cherries to the batter might be incredible. The very last slice of the cake remains in fridge. Taunting me. Teasing me. Challenging me to wait one more minute before eating it. I don't think I'll win this battle of wills.