What never faded, however, was the scene where her head is twisting in circles as green vomit projects out of her body. My mom referred to it as "pea soup". It was a guarantee I would never try pea soup, convinced it would come projecting out of my body, after my eventual possession.
Then recently, some friends were discussing this very food. They swore by it's simple ingredients and robust taste. In an effort to overcome childhood fears and expand my culinary knowledge, I decided to dive in. I found a recipe that was quick, simple and actually made this particular food look very alluring. I was positively shocked by how much I loved this soup. It's filled with chunks of carrots and peas, and is hearty but light. This is all to prove that childhood fears can be overcome, even in the kitchen.
In a large, heavy soup pot, cook the diced bacon over medium heat until it begins to brown (about 5 minutes). Add the onions, garlic, carrots, celery and thyme to the bacon; stir and cook for several minutes, until the vegetables begin to soften (about 5 minutes).
Add 1/4 cup of broth and use a wooden spoon to scrape up any brown bits on the bottom of the pan. Add the rest of the stock, water and peas; bring to a boil.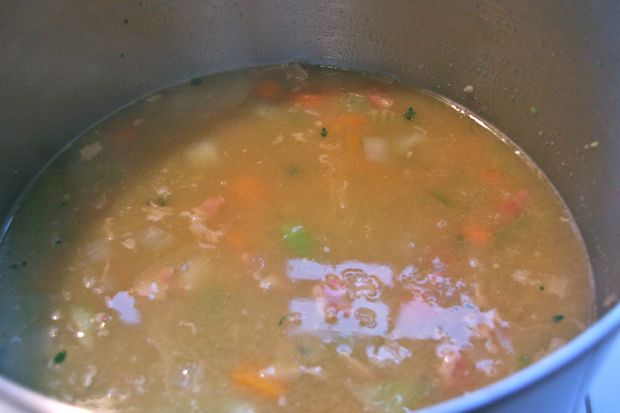 Cover, reduce heat and cook the soup over medium-low heat for an hour to an hour-and-a-half, until most of the split peas have broken down and the soup reaches your desired consistency. Stir every 20-30 minutes while soup simmers. I used my immersion blender to blend the ingredients, leaving some chunks of carrot. Serve with chunks of hearty bread or my favorite cheddar biscuits.