My mother was on her way to visit my sister the weekend after Halloween and noticed the farm stand she stopped at was giving away their pumpkins for free. She knows how much I love things that are free, especially food, and picked up a few for me. I had grand plans to use them right away but one weekend turned into the next and those orange globes were still staring me down. I had to admit, I was fairly intimidated. A whole pumpkin? What do you do with a whole pumpkin?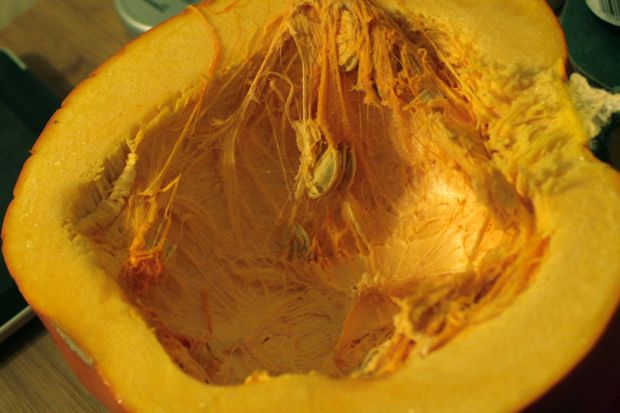 I took a deep breath and started doing what I always do when overwhelmed. I googled that shit. Turns out you can do a lot with a whole pumpkin. After poking around for a bit I got fairly excited. Then I stumbled on a recipe for bread you can make out of the guts of the pumpkin. I am the type of person to cut the mold off cheese or bread just so I don't waste food. So the thought that I could make something edible out of a part of the pumpkin most people just toss out, was way too tempting to pass up.
With a focus, I found my drive and dove in knife first. The original recipe for the guts bread had way more sugar, eggs and white flour than I prefer, so I fiddled with it until I found my ideal recipe. Let me tell you, it's incredible.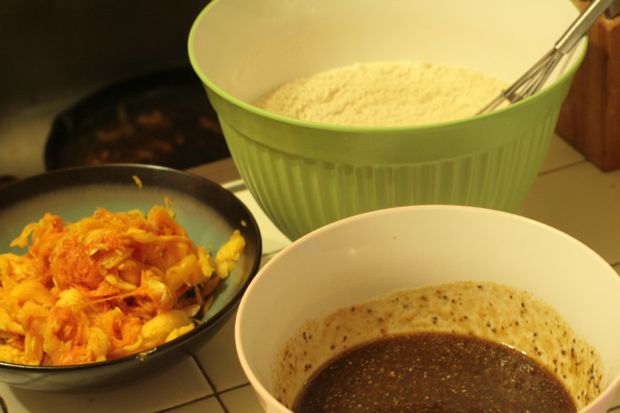 Before we jump ahead of ourselves, lets talk about what to do with the roasted flesh of the pumpkin. You can make a puree and freeze it or make pumpkin curry or pumpkin soup. I will have recipes for the last two in the next few posts. You can also just freeze the flesh as soon as it cools and let it thaw before using whole in recipes.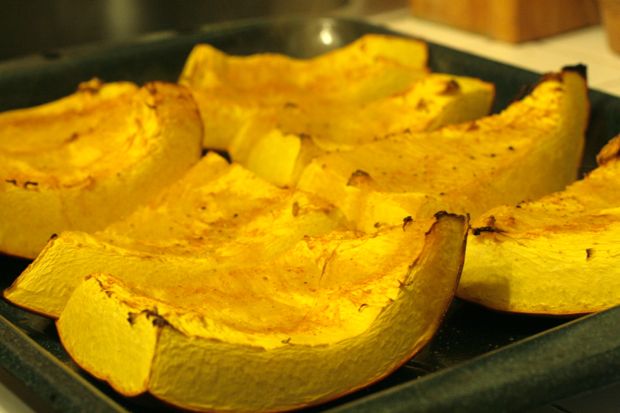 To roast pumpkin: preheat oven to 400. Cut whole pumpkin in half and then each half into several pieces. Scrape out the insides, saving the seeds for roasting and the guts for bread. Place pumpkin on a baking sheet, drizzle with olive or canola oil, season with salt and pepper. Roast in oven until tender but not falling apart, about 30 to 40 minutes. Let cool, peel skin off, and dice.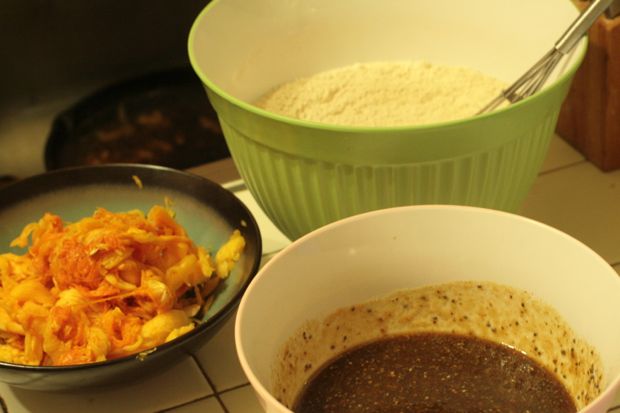 While the pumpkin is roasting, make bread. Preheat oven to 350 F or just turn it down once you remove the roasted pumpkin from the oven. Use your fingers and a pair of scissors to separate the pumpkin guts, making sure they'll be able to mix well into the batter. Mix flax and chia with maple syrup and let sit for 15 minutes.
Combine flours, baking soda, salt, pumpkin pie spice, and sugar in large mixing bowl. Add flax/chia mixture, applesauce and pumpkin guts. Stir until blended. Pour into two 9×5″ loaf pans. Bake 50-60 minutes. Cool slightly and take out of pans to let cool on a rack. I made this bread last night and one loaf is already demolished. So unbelievably good. As a bonus? The guts have the same nutritional value as the pumpkin flesh itself!