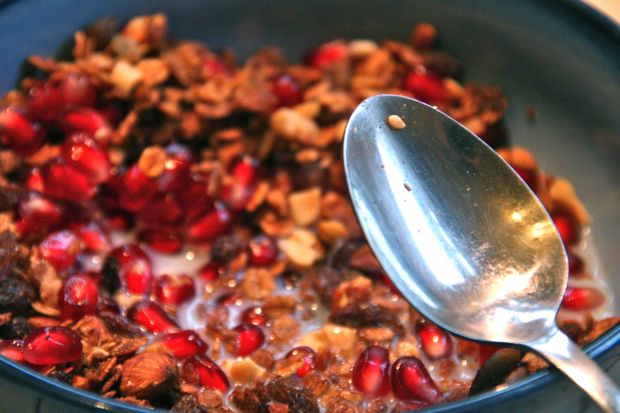 As I started following cooking blogs, I noticed everyone seemed to have their own granola recipe. Something they made at home and insisted was addictive. The ingredients were simple enough and it didn't take much time, so I decided to embrace the fullness of my hippie nickname. The first few recipes burnt pretty bad. Then I learned you have to use light colored baking sheets and parchment paper. I tried again with more success but I still wasn't quite addicted. I have tried five different granola recipes and the following recipe is my mix of my favorite parts of each one, leading to the addictive quality you will discover upon first bite. I have learned, however, the brilliant part about granola, is you can put whatever YOU want into the recipe. Make sure you have grains, spices and some oil, sugar and sticky substance (honey, agave) and you're well on your way to your own creation.
Preheat oven to 325 degrees. Line baking sheet with parchment paper. In large bowl, toss oats with cinnamon, salt, cardamom, ginger and sunflower seeds.
In medium bowl, whisk together honey, oil, brown sugar, vanilla and almond extract until smooth. Pour honey mixture over oats and use hands to blend ingredients until oats are coated with honey mixture.
Pour mixture on baking sheet and spread evenly. Bake for 10 minutes, then remove from oven and sprinkle almonds then use spatula to flip granola. Bake for five minutes then remove from oven and sprinkle hazelnuts over mixture. Bake for 10 minutes.
Remove granola from oven and let cool completely (about 30 minutes). Sprinkle raisins and cherries over granola. Will keep for one week in airtight container.
I eat my granola with yogurt and fresh cut fruit such as mangos, bananas or pomegranate seeds. I will also just use milk instead of yogurt.