A friend of mine shared that she was trying to decrease the amount of packaged and store bought goodies. Replacing them with as many home made versions as possible. This woman has two small children and a husband who is in the depths of his medical internship and thus rarely home. I admire her and was shocked she has the time to make anything. She insisted they were terribly easy so I requested the recipe. It really is incredibly easy and quick and delicious. When I hear those words combined, I usually do a somersault of glee and put it on the blog. In that order.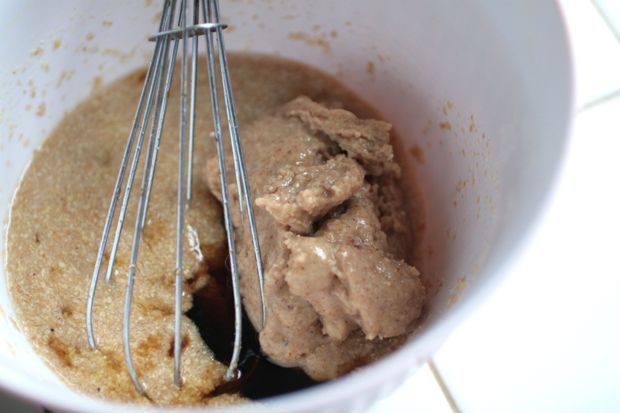 Preheat oven to 375 degrees. Combine ground flax seeds and water. Set aside. Combine oats, flour, baking powder, salt and sugar in mixing bowl. Stir in raisins and chocolate chips. In separate bowl, combine maple syrup and nut butter and mix until smooth. Combine nut butter mixture with flaxseed-water mixture.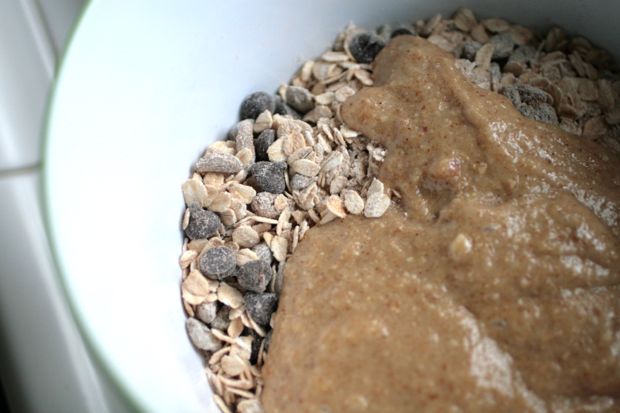 Add wet mixture to dry and stir well. The mixture will seem dry, but keep stirring until fully integrated. Press mixture into 8x8 inch pan that has been sprayed with cooking spray. Bake for 15 minutes. Allow pan to cool slightly, then cut into bars and transfer to cooling rack.