This particular recipe was made while my little guy was attached to me, sound asleep in the moby wrap. He could not be put down and be trusted to fall asleep so he was included in the making of the soup instead. He had not even woken up by the time the soup was finished and I was able to eat at our table with my husband, which is a rarity in our home lately.
I say all this to tell you just how easy it is and how little time it took. It can really be completed while a baby sleeps, is full of wonderful vegetables, costs very little and will be a repeat in our house. It can also easily be made into a vegan dish by substituting the butter for olive oil.
Heat 1 Tbsp butter in 4 quart pot. Saute onion and garlic until brown. Add spices and stir for 2-3 minutes.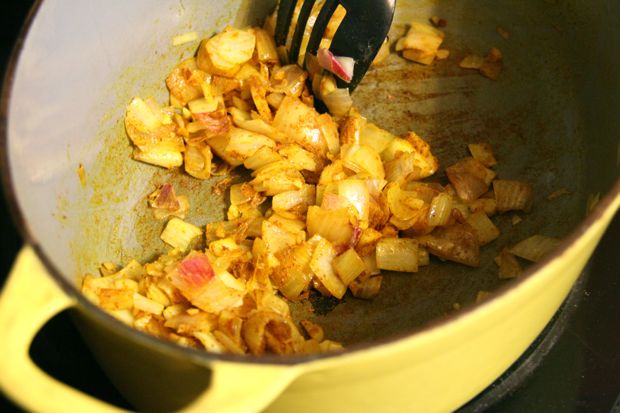 Add tomatoes and cook until they break down, if using fresh tomatoes; if using canned, simply proceed.
Add lentils and water to pot. Let simmer for 45 minutes, stirring often, until creamy.
Heat remaining 1 tsp butter in small skillet and fry cumin and mustard seeds until they pop. Stir fried seeds and cilantro into finished soup. I also added a bit of sour cream.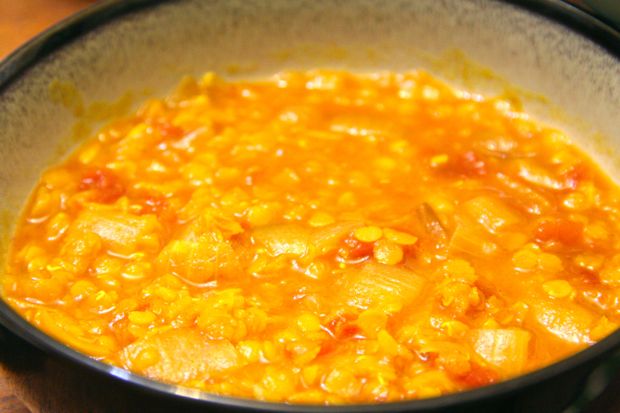 For babes 10 months and older: Use 1/4 cup red lentils and simmer in a separate small pan with 1 cup water to make a simpler soup for babe.