When not cooking, KK's favorite activities include creating artwork, playing with her little sister & learning how to skate. As a new mother I am so inspired when I see parents encouraging the interests of their children. KK's mom, Brooklyn, is a mother of three, wife and works in the modern world. To know that she is able to take pictures and help her daughter fuel a personal passion through this blog is something very unique and beautiful. I only hope I can emulate this trait. If you are interested in following KK's blog, as you should, it is here. She just posted a recipe for french bread pizza that any family would be silly not to try.
These directions are straight from KK's own post but I strongly encourage you to visit the recipe directly on her site, the pictures perfectly match the descriptions and she has her own style. Cut squash into pieces & transfer to large pot with steamer insert. Steam for 30 minutes, or until soft.
Remove squash & cool. Once squash has cooled, remove skin. Set Aside. Heat Olive Oil on medium-high heat. Start to boil water & cook pasta per package directions. Add chopped onions to oil, cook until soft. Reduce heat to medium, and add garlic. Once garlic has cooked for one minute, add water, cream, squash, sage & no chicken base, stirring constantly until all has been incorporated.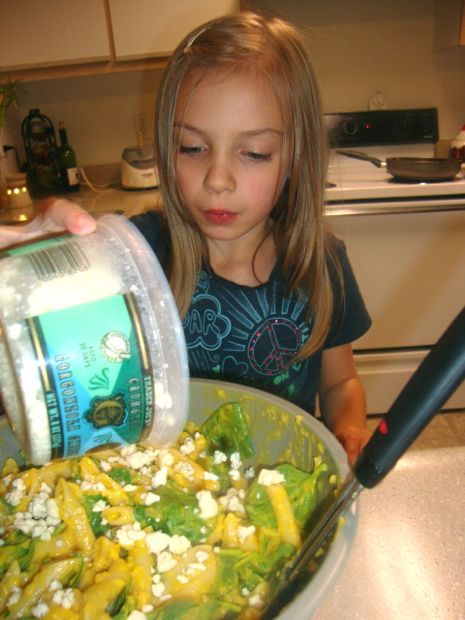 Add Salt & Pepper to pan, continue stirring until heated through. Once mixture has been heated all the way through, carefully transfer to food processor and blend until smooth. Stir spinach into sauce & penne mixture, then, stir in Gorgonzola to fully incorporate. Transfer to previous pot used to cook pasta and cook on medium-high stirring constantly until cheese is melted and spinach has wilted.
Garnish with additional Gorgonzola cheese & serve warm! Eat up & enjoy!