I have a sweet spot for cupcakes. Why you ask? There is more variety in frosting choices and the cake bottom is usually more dense. I can choose from different combinations to find that perfect bite. What gets me every time, however, is carrot and cream cheese in cupcake form. There is something about the shredded carrot glimmering bright orange through the light brown cake base that erases all cake hatred. The first bite, bursts with a harmony of flavors that beckon your teeth to sink in again and again. The cinnamon, hint of vanilla and ginger mixed with the tart yet creamy wonder of cream cheese frosting sends me skipping around after consuming.
After a recent trip to Tacoma and visit to Hello Cupcake with my mom and sister, I was obsessed with carrot cupcakes and cream cheese frosting. The problem? No one in my town sells such goods. I looked at at least thirty recipes and was inspired by my favorite cooking site and decided to add my own twist to the recipe provided.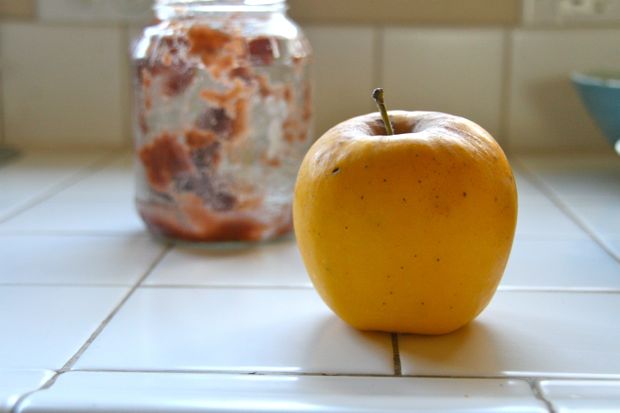 I wanted a little ginger, more cinnamon and extra vanilla. I wanted cupcakes instead of cake. I wanted to try adding applesauce instead of oil but didn't want to ruin the recipe so I substituted half. Next time, I will use only applesauce and completely omit the oil. This is what we call experimental baking. You find a muse and then interpret your own vision. When it came to the frosting, however, I couldn't stray. She nailed it and then upped the anti. So give in to the craving, you know you want to. Once you try this you will forgive me for hating cake and I hope you will be oh so grateful I'm still a blogger you follow.
Preheat the oven to 325°. Spread the pecans on a baking sheet and toast for 8 minutes. Cool and finely chop the pecans. Set oven to 350 degrees.
In small bowl whisk the flour, baking powder, baking soda, cinnamon, ginger and salt. In a small bowl, whisk the oil, applesauce, buttermilk and vanilla. In a large bowl, using an electric mixer, beat the eggs and sugar at high speed until pale, 5 minutes.
Beat in the liquid ingredients. Beat in the dry ingredients just until moistened. Stir in the carrots and pecans.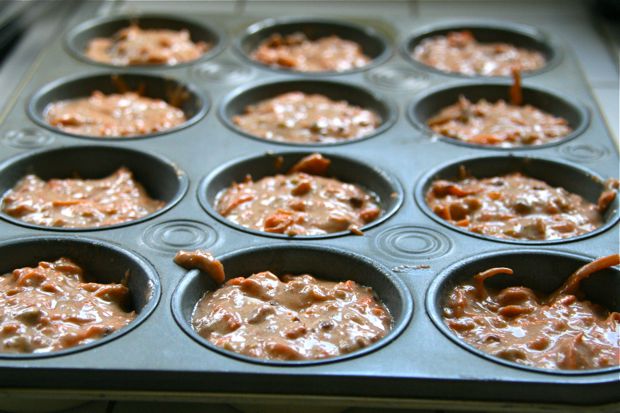 Coat muffin tins in butter/oil/spray and spoon batter into tins until three quarters the way full. I usually use a 1/4 measuring cup. Place muffin tray into oven and set timer for 8 minutes. Rotate muffin tin and set timer for another 8 minutes. Remove cupcakes when toothpick is inserted into middle and comes out clean.
Let cupcakes sit in trays for about 5-10 minutes or until cool. Run butter knife around edges carefully. Stick knife down one side of muffin and gently tilt at an angle to prompt muffin out of tin. Slide knife under bottom of muffin and use hand to hold steady as you transfer to cooling rack. Let cool 30 minutes.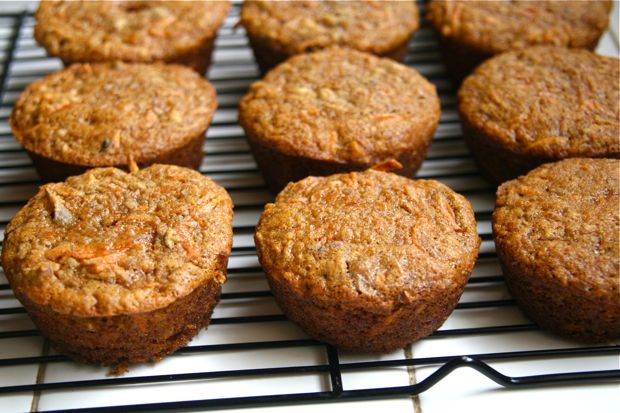 Using electric mixer, beat cream cheese and butter in large bowl until light and fluffy. Add powdered sugar and beat at low speed until well blended. Beat in maple syrup. Chill until just firm enough to spread, 30 minutes. Frost and then take a bite, like I did, because I couldn't take a picture of it without taking a bite first. It's that alluring.