Although I was suspicious, I listened, went out to eat sushi with my husband and ordered a vegetable broth based noodle soup. It made everything all better. When I returned home, I knew I had to find a recipe to have on hand in case that uncomfortable malady returned. Luckily, I had a recipe I had been wanting to try from Sunset magazine. It had simple ingredients I happened to have on hand and it took less than 30 minutes to complete. All wonderful additions when considering the deep desire to cure that burning sensation in your body as fast as possible.
I was also obsessed with "gimpop" and had to have more as soon as humanly possible. Everything turned out perfectly and I was happily slurping and rolling away in less than 30 minutes. My husband, who has become more adventurous over the last year, even tried the seaweed wrap and thought it was great. So make the soup, get some seaweed, boil some rice and try something new. Trust me. Have I let you down yet?
Mix together minced garlic and diced ginger. Trim fat from meat and cut into 1/4-inch slices. Sprinkle meat with half of garlic mixture and all the salt. Heat oil in 5-6qt pan over high heat. Brown half the beef lightly, stirring occasionally, 3-6 minutes. With a slotted spoon, transfer meat to a plate. Repeat with remaining beef.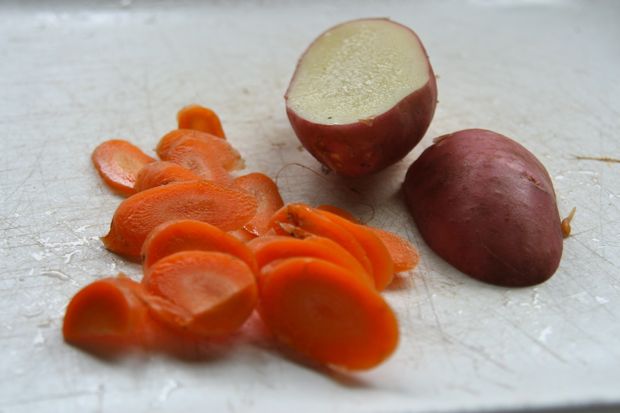 Reduce heat to medium. Add remaining garlic mixture to pan and cook until softened, about 30 seconds. Stir in five spice powder, then beef broth and soy sauce. Add carrot and potato. Cover and bring to boil over high heat, then reduce heat and simmer 2 minutes.
Stir greens into stew just until wilted, about 2 minutes. Stir in beef and cook until hot, 1-2 minutes. Cut onions in 3-inch slivers. Ladle stew into bowls and garnish with onions.