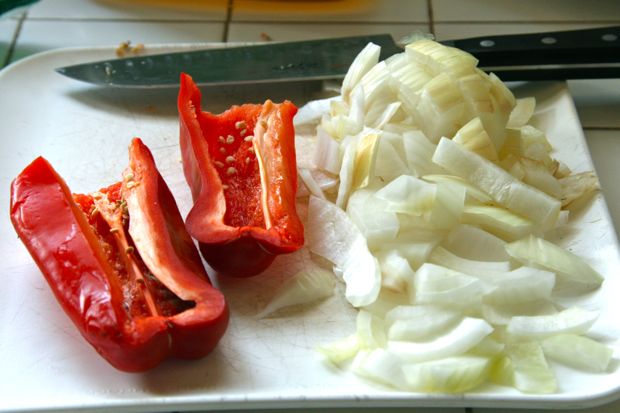 This time the dough was soft but crunchy, the ranch dripped from the pizza and the bacon was perfectly crisp and greasy. As always, I also wanted to include as many local ingredients as possible. It started with onions and peppers from my cooperative garden, ranch and cheese from the co-op and bacon from Oakland Bay Farms. All the ingredients for the crust came from the co-op as well.
The dough recipe comes from a terrific site that helps any novice bread maker or those of us that are afraid of yeast like the boogie man seem like childhood fears. I usually make the dough the night before or in the morning before work so all I have to do when I get home is roll out the dough and put the toppings on the pizza.
I highly recommend rolling the dough out on parchment paper and placing toppings on the pizza while it's on parchment. His recommendation to place the pizza stone in the oven while it heats is very helpful and significantly decrease cooking time and improves crust flavor. I just transfer the pizza, with the parchment paper underneath straight from the counter to the pizza stone in the oven. Makes the whole process much easier.
Preheat oven to 500 degrees (or as high as your oven will go) and put pizza stone in oven while oven heats. If you do not have a pizza stone, just use a baking sheet but do not preheat in oven. Caramelizing onions and peppers is a simple process. It helps if you cook the bacon first, keep the bacon fat in the pan, turn the heat to medium low and add the chopped onions and peppers, salt and pepper and cook until softened and transparent (about 10 minutes). If you do not use meat or choose to avoid the bacon fat then use a cooking oil or butter and make sure the vegetables stay well oiled as they can easily dry out.
After rolling out the dough, as directed in the recipe, spread the ranch sauce over the pizza dough evenly coating it. It will seem thick but some evaporates off.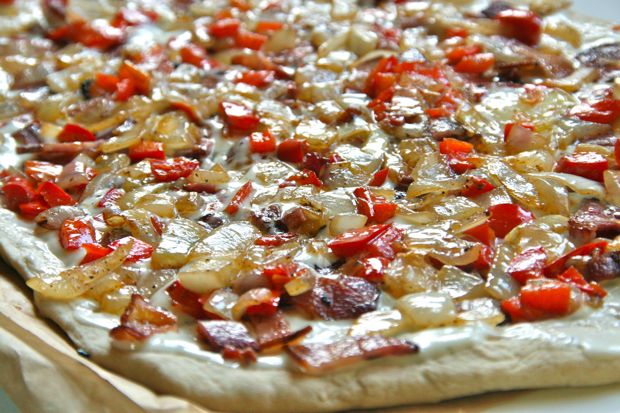 Add chopped bacon, caramelized onions and peppers and cheese. I used a combination of mozzarella and parmesan and it was perfect. Sprinkle with salt and pepper.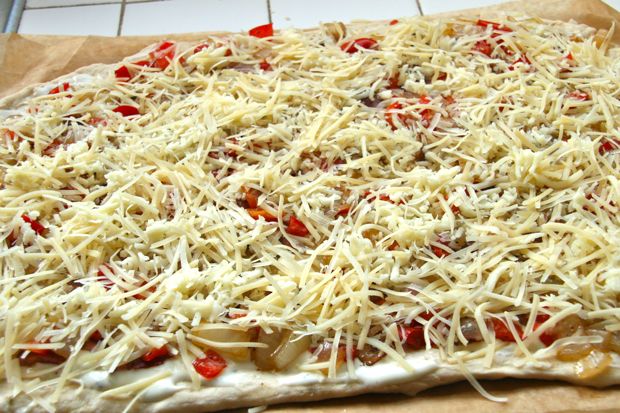 Place in oven for 5-10 minutes, checking often to see if crust is golden and cheese is bubbly. Take out of oven when this occurs and allow to cool. Slice and enjoy!