This recipe was taken from Cooks Illustrated Magazine and then adapted to my own personal tastes. You can find the original version in their cookbook or magazine issue. I'm happy to share the only difference is they use white flour, 3/4 cup dark brown sugar and 1/2 cup white sugar, semisweet chocolate chips and omit the sea salt sprinkle. I've followed the recipe verbatim and experimented with my own tweaks here and there and I feel the recipe below is the absolute best version. I believe the secrets to greatness are browning the butter to give a toffee flavor, using whole wheat pastry flour to add texture without increasing density, using Molasses instead of dark brown sugar to increase the toffee flavor, whisking the eggs as directed to increase crunch while maintaining chewiness, using two separate pans to bake cookies and using dark chocolate and salt for great contrast of flavors.
Preheat oven to 375 degrees. Whisk flour and baking soda together and set aside. Heat 10 Tbsp butter in skillet over medium-high heat until melted. Continue cooking, swirling constantly, until butter is dark golden brown and has toffee aroma. Remove skillet from heat and pour butter into large bowl using spatula to clean skillet of all butter. Add remaining 4 Tbsp butter and stir until melted.
Add sugar, molasses, salt and vanilla to butter until blended. Add egg and yolk and whisk for 30 seconds. Let mixture stand 3 minutes, then whisk 30 seconds. Repeat resting and whisking two more times until mixture is thick, smooth and shiny. Stir in flour mixture with spatula until just combined. Fold in chocolate chips.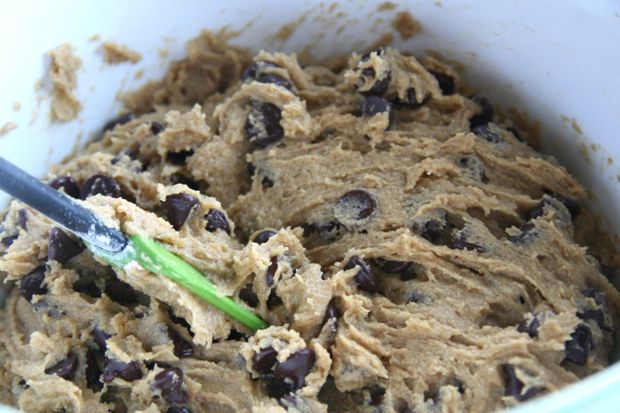 Make balls of dough about the size of a golf ball and about 2 inches apart. Sprinkle lightly with coarse sea salt. Bake cookies one tray at a time in middle of oven for 10-13 minutes or until edges are browned and insides are cooked but soft. Rotate baking sheet halfway through cooking. Remove from oven, let cook about 3-5 min and remove from cookie pan. If you are cooking all the dough at once then use a separate cookie sheet for your next batch. Placing warm dough on a hot sheet melts the dough too quickly.
I typically bake about four cookies at a time and freeze the rest of the dough in balls to easily remove from the freezer and cook on demand. I also find cooking frozen cookie dough does better than fresh dough. Then I always have fresh, gooey, crunchy cookies ready in just 13 minutes. Hope this makes you say,"Another chocolate chip cookie please".