At the farmers market I snagged some local, fresh asparagus and sweet potatoes. I felt a rush of pleasure for supporting these hard working, local stores but concerned about how this recipe would hold up to my delicate taste receptors. We happened to have leftover cornflakes in the very dark back spot of our pantry but there are plenty of options at the local co-op as well. From prep to finish it took less than 35 minutes and I wanted to eat it all over again, even though my stomach was full and my plate empty. This will be a for sure go-to for the future on nights where I don't feel like doing much cooking but I want a healthy, incredible meal. I served it with homemade tarter sauce (1/2 cup mayo, 1/4 cup sweet relish, 1 Tbs dijon mustard) and it was a huge hit. Seriously…try it out. You have nothing to lose but the whining that will occur for "more please".
Center one oven rack and arrange second rack in position closest to broiler. Preheat oven to 450 degrees. Spray two baking sheets with olive oil.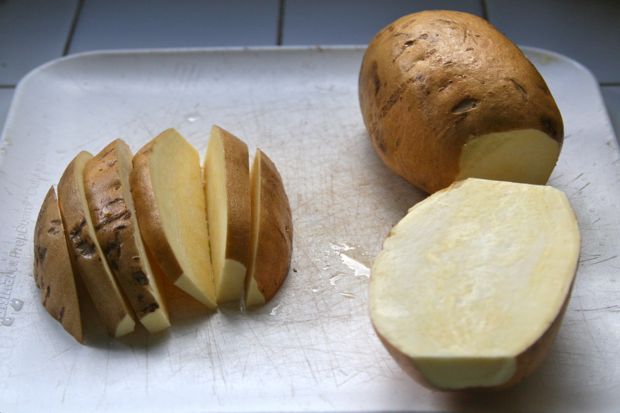 Cut potatoes to thickness desired. I like to make large cuts like Jo-Jo's. Remember the potato will shrink while cooking so don't cut too small. Place cut potatoes in bowl and toss with 2 Tbs olive oil, salt and pepper until evenly coated. Spread in single layer on one baking sheet and cook in middle rack until golden brown and crisp. Turn halfway through cooking, should take about 20-25 minutes. You can also grill asparagus at this time by placing in baking sheet in single layer, coating with oil, salt and pepper and roasting for about 10 minutes while you prepare fish.
Meanwhile, combine crushed cornflakes and remaining 1 Tbs olive oil in shallow dish. In another shallow dish, beat egg whites until foamy. Spread flour in thin layer in third shallow dish. Season fish with salt, pepper and cayenne.
Coat fish with flour, shaking off excess.
Dip into egg whites, dredge in crumbs to cover. Arrange fish in single layer on remaining prepared pan. Bake on rack closest to broiler until cooked through. Turn midway through cooking. Depending on thickness of fish, takes about 6-15 minutes or until internal temperature is 140 degrees.
Remove potatoes from oven and reset oven control to broil. For extra crunch, broil fish until crumbs are golden brown, about 1-2 minutes. Serve with potatoes and oven grilled asparagus.